Our Essential Guide to Beddgelert
February 27. 2023
Beddgelert is a mountain village of myth and legend and often referred to as the Jewel in the Crown of Eryri (Snowdonia) National Park.   At the confluence of the Afon Colwyn and the Afon Glaslyn, it is surrounded by dramatic landscapes. With Aberglaslyn Pass to the south, Nant Gwynant to the east, and Yr-Wyddfa (Snowdon) just a few miles to the north, Beddgelert is the ideal base for taking on some classic North Wales hikes.
It's also a great place to get out on your bike – nearby Beddgelert Forest is a huge woodland treasure trove of walking and cycling routes, including the Lôn Gwyrfai mountain bike trail. If you are into adventure and the outdoors, you could not be better placed to enjoy a multitude of activities on offer in Eryri. Or you could just pull on your walking boots and head out of the front door: epic days out don't have to cost much around here. Beddgelert is also a great place to potter about, and maybe even take a picnic to enjoy on the riverbank. There are some great walks around the village, and ample opportunities for post-ramble refreshments. The local pubs are excellent.
Here's a selection of our favourite things to do in Beddgelert.
Take a walk along the river to see Gelert's grave
Take a walk along Beddgelert's beautiful Glaslyn river to 'Gelert's Grave' – the final resting place of the faithful hound of Welsh Medieval King Llewelyn the Great. It's a bit of a tragic story (no spoilers here – you'll have to walk the walk to find out why), and a fine reminder of how loyal our animals are and why we love them so much. In warmer weather, the river is also a great place for a paddle or a picnic. 
Walk to the ruins of Dinas Emrys 
Although not much of the original fort is remaining, it is well worth a visit to Dinas Emrys. It is here that the red dragon of Wales is said to have slain the white dragon of the Saxons, as foretold by Merlin himself. Follow the trail past waterfalls and through beautiful oak woodland to reach a summit with the remains of a square tower built by the princes of Gwynedd, and magnificent views. 
Visit Beddgelert Woodcraft
There are lots of beautiful, hand carved wooden gifts to take home as an Eryri souvenir from Beddgelert Woodcraft. An eclectic mix of local designs and world-wide crafts. Inspiring items which are all Fair Trade.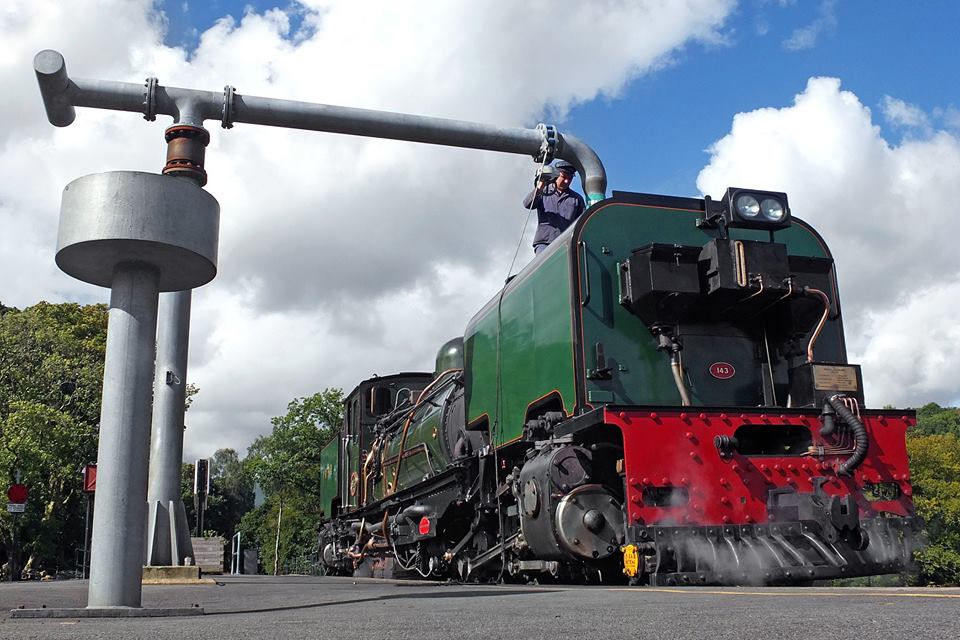 Jump on board the Ffestiniog and Welsh Highland Steam Railway
This part of the world has no shortage of heritage railways, but you can jump on the Welsh Highland Railway just a few yards from our garden, and you'll hear the trains puffing up to the village long before they arrive!  If ever there were a place to sit back and enjoy the nostalgic pleasure of steam, this is it. A day out on these railways is one of life's great pleasures. 
Visit Portmeirion
Portmeirion Village was designed by Welsh Architect Clough Williams-Ellis in the early 20th century. The architectural equivalent of Willy Wonka's chocolate factory, it is an eccentric collection of Riviera-inspired houses, ornamental gardens and colour washed villas. It is also home to the spectacular Gwyllt woodland – ten hectares of trees and ornamental shrubs, with big views over the Dwyryd Estuary towards Harlech. There are plenty of cafés and shops to browse, and fabulous Italian Gelati at Caffi'r Angel. Lunch on the lawn outside the beautiful Art Deco Hotel Portmeirion is the perfect holiday treat. Read more about a day out at Portmeirion here. 9 miles from Beddgelert. 
---
LOCAL ACTIVITIES AND ADVENTURES
Sygun Copper Mines
Winner of the Prince of Wales award for tourism, Sygun Copper Mine is one of the wonders of Wales – a remarkable and impressive example of how our precious industrial heritage can be reclaimed, restored and transformed into an outstanding attraction. A self-guided audiovisual tour allows you to explore the old workings with its winding tunnels and large, colourful chambers, magnificent stalactite and stalagmite formations. Above ground you can try your hand at panning for gold and enjoy a beautiful lakeside walk. The kids can let off steam at the adventure playground. 1.5 miles from Beddgelert. 
Zip World Caverns
This underground adventure allows you to speed through the caverns of the abandoned Llechwedd slate mine on zip lines, navigating part of the course with a via ferrata, monkey bars, and a whole variety of challenging obstacles. It's a thrilling experience! Zip World Caverns is part of the Zip World portfolio, which also boasts Europe's largest zip zone at Blaenau, as well as the fastest zip line in the world at Penrhyn Quarry – a site that was once home to the world's largest slate quarry. Zip World Caverns is at the same site as Bounce Below and Llechwedd Slate Caverns (see below). 15 miles from Beddgelert. 
Bounce Below
Zip World Caverns (see above) is where you'll also find Bounce Below – a series of giant underground trampolines, strung across enormous underground chambers, with climbs, slides and various levels to navigate. Bounce Below is another thrilling and completely unique North Wales adventure. From age 7+. It's the same site as Zip World Caverns and Llechwedd Slate Caverns (see above and below). 15 miles from Beddgelert. 
Discover the story of slate at Llechwedd Slate Caverns
The deep mine tour at Llechwedd Slate Caverns tells the story of the men who built an industry which roofed the world – the Welsh slate industry.  Experienced from the point of view of the mine workers, the tour takes you deep underground – around 500ft. – to tell the story of the slate miners' blood and guts, determination and resilience. It's a fascinating insight into the culture and heritage of North Wales. It's the same site as Bounce Below and Zip World Caverns (see above). 15 miles from Beddgelert. 
Other stand out North Wales adventure attractions include Zip World Titan, Zip World Velocity, Surf Snowdonia & Adventure Parc Snowdonia, Greenwood Forest Park, Rib Ride, and Go Below.
---
MOUNTAIN BIKING AND CYCLING
Explore the local forest trails
Beddgelert is a great place to get out on your bike – nearby Beddgelert Forest is a huge woodland treasure trove of walking and cycling routes. They start from the end of our garden, so couldn't be more convenient, and follow the forest trails so there is no worry of traffic. Perfect for family days out as well as an opportunity to take in the stunning local scenery.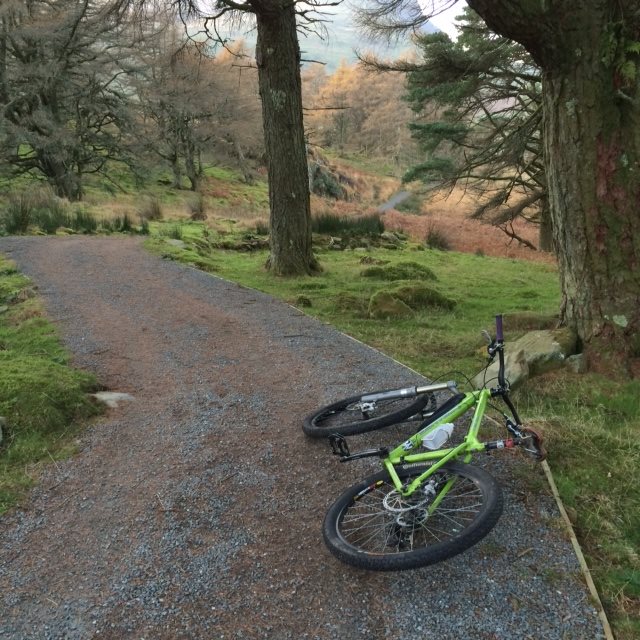 Antur Stiniog
Set in the stunning slate mountains of Blaenau Ffestiniog, and with far-reaching views towards the Irish Sea, Antur Stiniog offers 14 fantastic gravity fed trails for all shades of rider from novice to world cup racer. The downhill trails are graded from green to black. Antur Stiniog includes a mountain uplift service, and bikes are available to hire from the site. 15 miles from Beddgelert.
Coed y Brenin
Coed y Brenin near Dolgellau is the UK's first and largest dedicated mountain bike trail centre. Hire bikes from the visitor centre (or bring your own) to explore miles of world-class mountain bike trails, with waymarked routes to suit all abilities. There is also a café, plenty of family walking trails, a nice play area and some gorgeous spots for a riverside picnic. 20 miles from Beddgelert.
Bike hire
Need to hire some wheels? Head to 1085 Adventures in the centre of Beddgelert forest.
---
WALKS
Master Moel Hebog
It's Beddgelert's own mountain: a worthy day of walking that will reward you with superb 360 views of Yr Wyddfa, Eryri and the North Wales coast. At 782m Moel Hebog is no lofty peak, but it shouldn't be underestimated. A circular route covers around 9km and will take you the best part of a day. Make sure you check the weather, and that you will have enough light to finish, before you set off. You can read our guide to Moel Hebog, here. Walk from the centre of town.
Conquer Yr Wyddfa – Snowdon
It's a bucket list favourite for anyone visiting North Wales – do you fancy climbing Wales's highest summit  on your next trip here? Beddgelert is a short distance from the start point of three of the best routes up Yr Wyddfa, the Rhyd Ddu Path (pronounced 'rheed-thee'), the Snowdon Ranger, and the Watkin Path. This is the quieter (and sunnier) side of this great mountain, and offers some of the best views. The Snowdon Sherpa bus which links all the paths stops at the end of our lane, so couldn't be more convenient.  Plan ahead by downloading the Snowdon Walks app, which covers the six main routes up, with detailed maps and a live progress tracker. You can read more about how to prepare for a walk up Yr-Wyddfa, here. 
Climb Cnicht
Take on Cnicht – aka the Welsh Matterhorn – for breathtaking mountain scenery and one of Eryri's best 360-degree summit panoramas. Cnicht's pointed summit really stands out among the rounded bumps of the neighbouring peaks. It is part of Eryri's Moelwyn range, a short drive from Porthmadog. Its appearance has earned it the name the 'Welsh Matterhorn', albeit a somewhat smaller version (689m as opposed to a whopping 4,478m). You can read our guide to Cnicht, here. 10 miles from Beddgelert.
Other local walking ideas
For some more walking inspiration, you might be interested in these websites: Mud and Routes is a great information resource for walking in the area. Simply enter where you would like to walk and it will give you some tried and tested routes. Geocaching is popular in this neck of the woods and if you love a treasure hunt, then this is a great way to while away an afternoon, especially if you're trying to keep the kids amused too.
---
BEACHES
Llyn Dinas
OK, so it's not technically a beach, but this lake near Beddgelert has a beautiful shoreline and views! Nestled among the wooded foothills south of Yr Wyddfa, Llyn Dinas is linked to Nant Gwynant by the meandering Afon Glaslyn which flows onwards to Beddgelert. Great for a paddle board or a relaxing picnic, it is an easy 2 mile walk from Beddgelert House.
Borth y Gest
Borth Y Gest is a beautiful little harbour village on the Glaslyn Estuary, just a mile from the centre of Porthmadog. You'll find some lovely little cafes and shops in the village, and a sandy beach with plenty of 'pirate' coves to explore. Swimming is not advisable at Borth y Gest due to exceptionally strong currents, but it is a great good beach for walking and sunbathing. The Wales Coast Path runs along the edge of the beach. 8 miles from Beddgelert.
Morfa Bychan / Black Rock Sands
Morfa Bychan – aka Black Rock Sands – is a long sandy beach just two miles from Porthmadog. It is one of the few locations where you can take your car on to the beach, and it has designated boat launch areas. The sea along the beach is shallow, with a gentle gradient making it ideal for swimming and bathing. With beautiful views of Criccieth castle and wide open views of the Irish Sea, it is the perfect place for a spot of beach cricket and a picnic. 10 miles from Beddgelert.
Criccieth
Criccieth has two excellent Blue Flag beaches separated by the town's prominent – and still powerful – medieval fortress. Marine Beach to the west of the castle is pebbly, has views straight out to sea, and is safe for swimming. Head west towards Pwllheli and you can walk for miles either along the beach or on the beachside path above. Criccieth's main beach to the east of the castle is a mixture of pebbles and sand. Walk east of here to find rock pools and local wildlife. There is also a nice lawned area next to the beach if you'd prefer to have a picnic by the sea without the sand. 13 miles from Beddgelert.
Explore Pen Llŷn's beaches
Beddgelert is a short distance from Pen Llŷn – the Llŷn Peninsula – an Area of Outstanding Natural Beauty. It's the kind of place where you can take a picnic to a 'secret' cove or beach and feel like you have the whole place to yourself – because you probably will. Head to Pen Llŷn's Porth Iago, Porth Oer and Porth Ysgo to enjoy some of the best 'secret' beaches in the UK. Busier beaches like Pwllheli and Abersoch are brilliant playgrounds for all sorts of watersports and have a dedicated surfer / kitesurfer following. A pint on the beach in front of the Ty Coch Inn at Porthdinllaen is an unmissable treat. 15+ miles from Beddgelert.
---
FOOD AND DRINK
There are so many great places to enjoy good food and drink in and near Beddgelert, we couldn't possibly list them all here. Instead, here are some of our personal favourites. Enjoy!
Pubs
The Tanronnen Inn is a great local pub offering pub food and ales.
The Saracens Head is another decent place for great pub food, roaring log fires and good ales.
Restaurants
The Bistro Yn Yr Hebog is a fantastic restaurant. The outside is beautifully set by the river and perfect for relaxing after a long walk or if you just fancy mooching around by the river for lunch. Lovely for evening meals too.
The Royal Goat is well known for its Sunday lunches but also for a great evening menu with meat and fish options.
Cafés
Caffi Gwynant is based at the foot of the Watkins Path is a perfect spot to stock up / restore from a trek up or down Yr Wyddfa. An impressively extensive (and tasty!) menu.
Glaslyn Ices will always be mentioned hand in hand with Beddgelert – as well as incredible ice cream, they also offer a great café menu including delicious pizza!
Ice Cream
Glaslyn Ice Cream – as above, not to be missed!
---
WELSH LANGUAGE
The welsh alphabet is phonetic so once you know how to say the letters, the theory is that reading the words is straightforward; you say what you see. A little time spent familiarising yourself with the alphabet will help no end when you're trying to navigate your way around the area…
a short, as in 'hat', never as in 'ball'
b as in 'bag'. Although is there really any other way?
c always hard as in 'cat', never an s as in 'precise'
ch like the ch in the Scottish word 'loch', but with more phlegm
d as in 'dog', never as in 'djinn'
dd a buzzy 'th' sound, as in 'this'. Think angry bees with a lisp
e short, as in pen
f v. This is very, very simple, and when you get really used to it, f will play hafock with your spelling
ff f. Equally, you can ffind yourselff getting too used to ff as well
g always hard as in 'get', never a 'j' sound as in the last g in garage
ng as in 'song', where the g isn't hard, like in 'gig', but a soft glottal stop made in your throat
h as in hat, always sounded and never silent
i as in 'pin'
j accepted now because of the loan words from English that use it, like 'garej'
l a 'luh' as in 'lava', but never an 'ul' sound as in 'milk'
ll not as hard a sound to make as some would have you think. Raise your tongue to the top of your mouth as if you were going to say 'el', then make the 'ell' sound by blowing air round the sides of your raised tongue, instead of by using your voice. You should sound like an annoyed cat
m as in 'mithridatize'. Or as in 'mum', if you want to be boring
n as in 'nanobot'
o short as in 'hot', not round as in 'hotel'
p can I have a p please Bob?
ph an English f, or Welsh ff sound, as in 'phase'
r rolled. Some people just can't get a rolled 'r' – their tongues are unable to vibrate in the right way. It's a genetic thing, apparently,
similar to being able to roll your tongue into a tube, or turn the end upside down. Honestly, some people can, but my tongue's not that prehensile. Roll if you can, don't if you can't
rh hr. Make a huffy, breathy sound before your rolled 'r'
s always soft as in 'sit', never a 'z' sound as in 'juxtapose'
t as in 'top'. Can it get any simpler?
th as in 'think', softer and less buzzy than dd
u If you had stepped in something disgusting and made a kind of 'eugh' noise, the vowel 'eu' sound would about approximate
w oooooo
y ok, y breaks the rule that Welsh is phonetic. As a single syllable word, y is like 'uh', on the last syllable of a multisyllabic word it' an'u' or 'ee', and anywhere else it's like the unstressed, indeterminate noise of the final e in 'garden' or 'letter'. Ysbyty (hospital) is the perfect example.
USEFUL PHRASES
Welcome: Croeso
How are you? Sut mae / Ti'n iawn
Good morning: Bore da
Good Afternoon: P.nawn da, prynhawn da
Good evening: Noswaith dda
Good night: Nos da
Cheers / Good Health! Iechyd da!
Do you speak welsh? Ydych chi'n siarad Cymraeg?
How do you say…. in welsh? Beth ydy….yn Cymraeg?
Thank you: Diolch
I love you: Dw i'n dy garu di
Happy Birthday: Penblwdd Hapus
and a couple of funny ones….
Microwave: popty ping
'Might as well': Man a man a mwnci